Cast Steel Company und Produktteile
Farm implementiert landwirtschaftliche Maschinenteile Stahlgussteile und Gussfabrik
Das Werk wurde 2010 gegründet und umfasst rund 5.000 Quadratmeter mit rund 60 Mitarbeitern.
Ausgestattet mit kompletten fortschrittlichen CNC-Bearbeitungsgeräten, einschließlich 30 vertikaler und horizontaler Zentren, sowie mehr als 30 CNC-Maschinen und 50 anderen Bearbeitungsgeräten.
Die Bearbeitungsanlage ist völlig unabhängig von der Gießerei und verfügt über ein unabhängiges Managementteam und ein auf sie zugeschnittenes Geschäftsmodell. Neben dem Gießen, Schmieden und Bearbeiten können auch verschiedene Profile bearbeitet werden.
Verwendung eines fortschrittlichen Feinguss-Feingussverfahrens, das mit verschiedenen modernen Arten von energiesparenden und umweltfreundlichen Produktionslinien ausgestattet ist, einschließlich automatischer oder halbautomatischer Produktionslinien für Schlüsselprozesse: Wachsherstellung, Schalenherstellung, Gießen, Wärmebehandlung.
· Die jährliche Versorgungskapazität beträgt 15.000 Tonnen.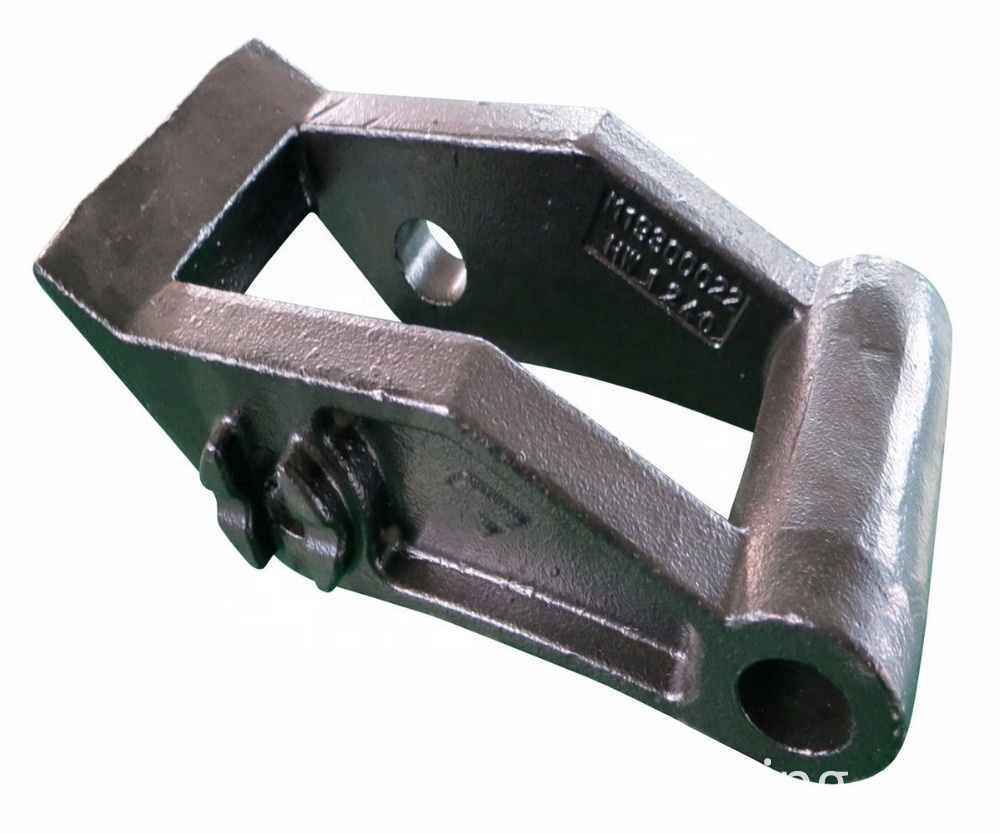 1. Überblick über Factory- Leisheng Machining & Feinguss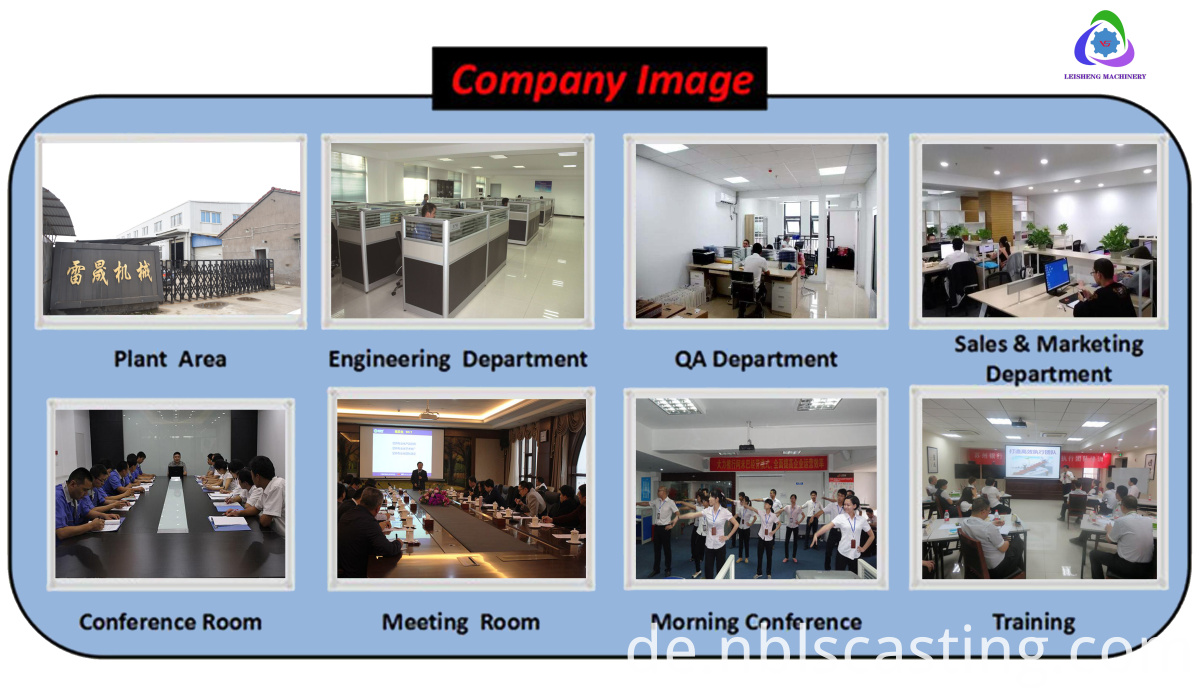 2. Unsere Mission:
Verwirklichen Sie Ihre Träume mit Ingenuity. Gestalten Sie Ihre Zukunft mit Precision Machining
3. Unsere Werte:
· Mit der Zeit gehen
· Pionierarbeit und Innovation
· Harmonie und Win-Win
· Nach Perfektion streben
4. Produktbeschreibung:
| | |
| --- | --- |
| Material | Carbon steel, alloy steel, stainless steel |
| Process | Lost wax casting + cnc machining |
| Casting dimension tolerance | CT7 |
| Casting surface roughness | Ra 12.5um |
| Casting weight range | 0.1-90kg |
| Casting Size | Max linear size: 1200mm, Max diameter size: 600mm |
| Machining Precision | Positioning accuracy 0.008mm, Rep. position. accuracy 0.006mm |
| Machining surface roughness | Ra0.8~6.3um |
| Max Travel Of Spindle | 1800mmx850mmx700mm |
| Max Turning Diameter | 1000mm |
| Material standard | GB, ASTM, AISI, DIN, BS, JIS, NF, AS, AAR....... |
| Surface treatment | KTL(E-coating), Zinc plating, Mirror Polishing, Sand Blasting, Acid pickling, black oxide, Painting, Hot galvanizing,Powder coating, Nickel plating |
| Service available | OEM & ODM |
| Quality control | 0 defects,100% inspection before packing |
| Application | Train & railway, automobile& truck, construction machinery, forklift, agricultural machinery, shipbuilding, petroleum machinery, construction, valve and pumps, electric machine, hardware, power equipment and so on. |
5. Herstellungsprozess:
Prozessdesign ⇒ Werkzeugherstellung ⇒ Wachsinjektion ⇒ Wachsmustermontage ⇒ Formvorwärmung ⇒ Wachsentfernung ⇒ Stuckieren ⇒ Tauchguss ⇒ Formschütteln ⇒ Werkstückabschneiden ⇒ Schleifen ⇒ Packen & Transportieren ⇒ Endkontrolle ⇒ Bearbeitung ⇒ Wärmebehandlung
6. Wir bieten verschiedene Testeinrichtungen an, wie unter:
1. Chemical analysis
2. Tensile strength
3. Elongation rate
4. Shrinkage rate
5. Impact test
6. Harness test
7. Metallography
8.Non-destructive tests(including dye-penetrant, ultrasonic, magnetic particle and radiography)
9. Surface roughness test
10.CMM test
11.3D Scanning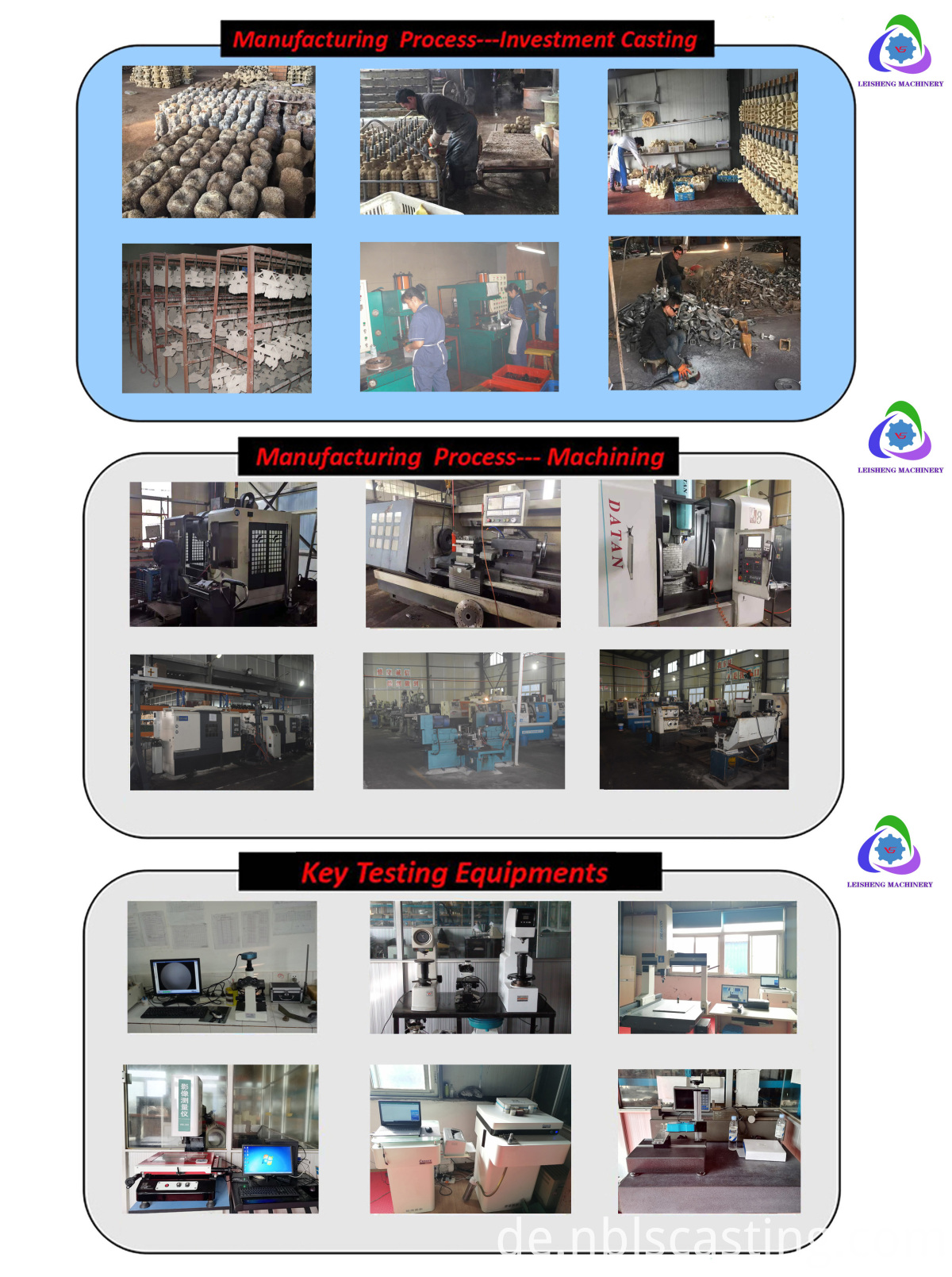 7. Kernvorteile des Wettbewerbs:
Advantages 1:High Engineering and Technical Capability

· An industry's senior engineering technical team , with special skills and rich experience in product design, casting ,heat treating and machining fields.

· Based on customer needs, in the beginning of product development, offer a solution, casting design, by structural component designed to casting parts, optimize the product design, then reduce costs and creating the more value for the customers.

· Special Techniques Enable us to Be Competent with Those Difficulties at Wax Injection & Shell Making Procedures When Manufacturing the Parts with Inner-Sophisticated-Structure.

·

Use casting simulation analysis system software , try our best to to ensure the success of the one-time trial sample.

·

Advantages 2: Advanced Inspection Equipment & Strong Quality Assurance Capacity

· Our testing equipments are not only advanced in the industry, and also has a very complete range, they are hardware guarantee to ensure us continue to provide high-quality products for our customers.

· Carrying out ISO9001 quality management system, full implementation of 5S and Kanban site management, which is software guarantee of the quality.

· IQC, IPQC and FQC quality management team to control the whole production process, effectively prevent the generation of unqualified product.

· Our casting' PPM ≤1000 Machining ' PPM ≤600

· We stick to the quality management philosophy that "Starting from the customer needs and ending with their satisfaction, focusing on customer demands and exceeding their expectations".

Advantages3: Good Customer Service

· LEISHENG can provide customers with good service, our staff have abundant commercial experience, good language ability, and rich foundry or mechanical background. We are committed to providing customers with accurate, careful and speedy service.

·

Quotation, Quality Complaints and Email Response can usually be quickly and efficiently feedback within 48 hours.

·

· We have carried out an information-based management which is driven by an ERP and PMC system, to ensure on time delivery rate: 95%

Advantages 4: Powerful Deep-processing Ability It is the important core competitive ability for QIANHAO

· Machining capability as the same as casting, the machining facility is fully independent from the casting foundry and has an independent management team and tailored business model to suit.

· LEISHENG has completed a transformation and upgraded to a deep-processing manufacturer with expanded production capabilities and is committed to be equipped with other capabilities except casting, we focus on developing terminal products for top-end markets.

·

High technical content in machining, and casting with sheet metal, welding, assembling, LEISHENG has the more competitive advantage, it is the very good choice for you.
8. Kontaktinformationen: